Designs for Desk Sharing & Home Office.
Classic Slash Organizers are portable office organizers that allow you to work flexibly in your new work environment.
Are you switching to "desk sharing"?
The Clean Desk Policy is a concept that focuses on a "tidy workplace". The workplace should be freed from work equipment such as keyboard, mouse, documents and personal items. This new way of working protects confidential information and thus protects your customer, your reputation and your own employees.
Send request
Clean Desk Organizer - Enabler for hot desk implementations
A new office concept requires innovative and smart tools in order to achieve the optimal degree of implementation and acceptance by employees.
An important thing is how your employees can store their personal belongings in the new office environment. It is crucial that the bag fits into your new concept and design and will help your employees navigate through the new way of working.
Introducing our Clean Desk Organizers: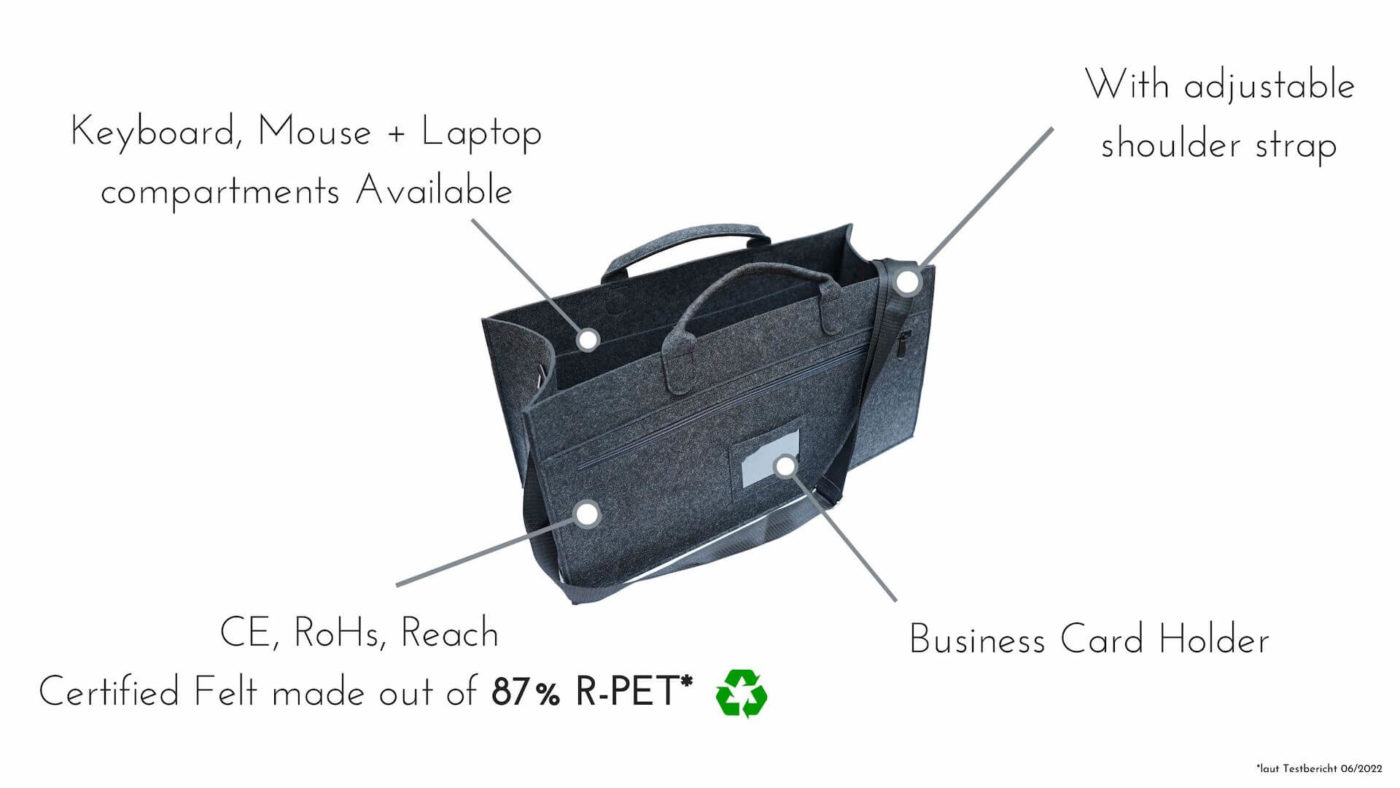 SWITCHING TO DESK SHARING?
Are you in the process of making your office concept more efficient and switching to desk sharing / flex desk methods? Do you still need a practical and individual solution to safely carry around personal items such as laptops, wireless keyboards, mice, etc. of your employees/colleagues?
PROVEN DESIGNS FOR MODERN WORKING ENVIRONMENTS
In this transformation process, we help you to develop the right organizational system for your employees/colleagues. Giving up your personal job is certainly not easy for many. Therefore, the new setup should not create any additional frustration for the employee.
CLEAN DESK ORGANIZER FOR FRUST-FREE SWITCHING TO HOT DESK
You can customize our Clean Desk Organizer according to your wishes. We process vegan polyester felt, which is particularly robust and stable and is therefore ideally suited as an office organizer.
RETURNING FROM THE HOME OFFICE TO THE OFFICE
Are your employees returning to the office from their home offices after two years and have you already switched parts of the office to New Work? Where to go with all that stuff if you don't have an own desk any more? Here a hot desk organizer helps with the changeover.
IT SECURITY AT THE WORKPLACE
For a safe, clean and modern office landscape in which personal, confidential items can be stowed away clearly and practically.